Treatment Guidance of Shock Wave Therapy Device PowerShocker LGT-2500S  
User : Dr. María Laura Tutté
Dr. María Laura Tutté (Medical physiatrist) in this video is a specialist in Physical Medicine and Rehabilitation. She is contributing to research on Shock Wave Therapy Treatment, and she is also a member of ISMST and attending ISMST Congress to popularize this RSWT technology in the world.
Frequency: 1 – 17 Hz
Pressure: 1.0 – 4.0 bar
Channel: 1 channel
Interface: 7″ touch screen
     FEATURES
Portable, reliable, affordable
Powerful & compact shockwave device
Small and lightweight
Easy to install and use
Silent built-in air compressor
Pre-set protocols with treatment guidance images
User-defined protocols
Application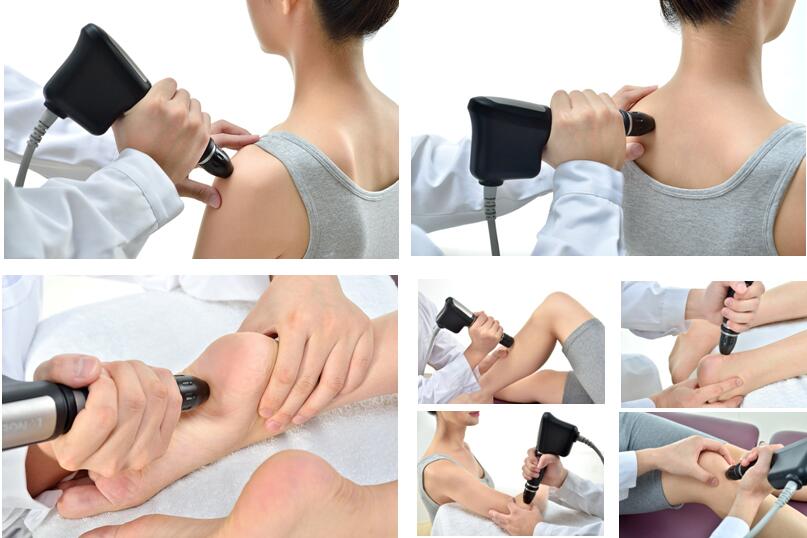 Extracorporeal Shockwave Therapy device PowerShocker LGT-2500 series can be used in Physiotherapy, Orthopaedics, and Sports Medicine for mainly working on  the treatment of chronic      pain in shoulder, back, heel, knee or elbow.
 Indications include:
Supraspinatus Tendinitis
Calcific Supraspinatus Tendinitis
Tennis Elbow
Golf Elbow
Jumpers Knee / Patellar Tendonitis
Trochanter Pain Syndrome
Patellar Tendonitis
Tibial Stress Syndrome
Achilles Tendonitis
Plantar Fasciitis
TECHNICAL SPECIFICATION
| | |
| --- | --- |
|   Channel |  1 channel |
|   Interface |  7″ LCD touch screen |
|   Pressure range |  1.0 – 4.0 bar (step by 0.1 bar) |
|   Frequency range |  1 – 17 Hz (step by 1 Hz) |
|   Pre-set protocols |  Yes |
|   User-defined protocols |  Yes |
|   Item dimension |  39.5(L) × 39(W) × 19.4(H) cm |
|   Item weight |  8.5 kg (handpiece excluded) |
|   Compressor type |  Bulit-in silent air compressor |
|   Input voltage |  100 – 240V, 50 – 60Hz |
Specific Indications on this site are not approved by the FDA in the USA.
For indications that are cleared through the USA FDA please refer to our USA Webpage at us.longest.cn
Accessories
HANDPIECE

TRANSMITTERS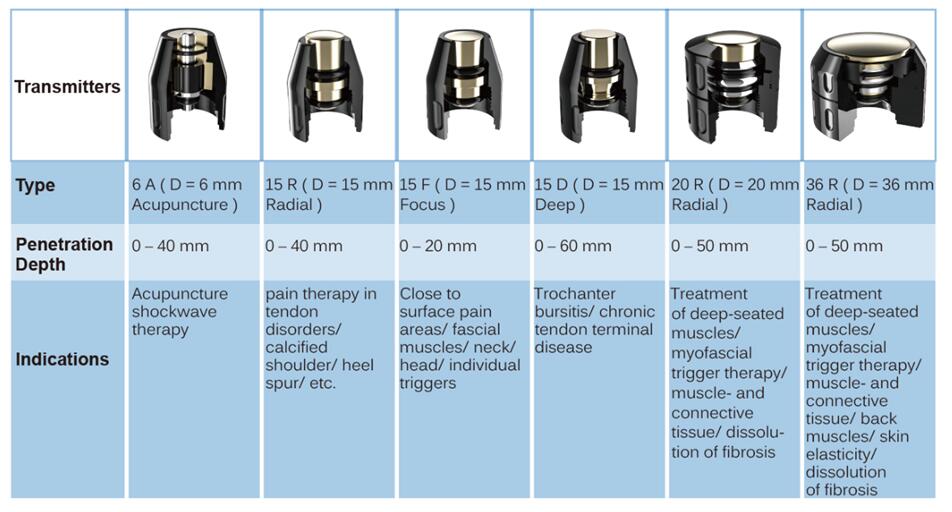 STANDARD ACCESSORIES
| | |
| --- | --- |
|   PowerShocker Handpiece |  1 pc |
|   15mm Radial transmitter |  1 pc |
|   20mm Radial transmitter |  1 pc |
|   Projectile |  2 pcs |
|   Metal tube |  2 pcs |
|   Gel 250ml |  1 pc |
|   Reversion box |  1 pc |
OPTIONAL ACCESSORIES
| | |
| --- | --- |
|   15 mm Focus transmitter |  1 pc |
|   15 mm Deep transmitter |  1 pc |
|   6 mm Acupuncture transmitter |  1 pc |
|   36 mm Radial transmitter |  1 pc |
|   Carrying case |  1 pc |
|   Trolley |  1 pc |